THE COMPANY AND FOUNDERS – Getting people out of harms way!

Mr. Trond Sandvold
CEO and board member
• Trond has 30+ years' experience within oil and gas industry. He has wide experience within site
management (on behalf of Oil company), Quality-, Risk- and HSE management, offshore operations (including lifting operations)
• General project management (latest as core management team
for the Valhall Flank West project).
• Co-founder of two companies (Evolift and Captus) working with
solutions for automated lifting
operations.
• Experience and knowledge within
qualification of new technology.
• Once or twice a year Trond work for The Research Council Of
Norway as part of the evaluation team for various programs.

Mr. Arnfinn Matre
Board member and technical advisor
• Arnfinn has a Master of
Science degree in Offshore Technology and has worked as a technical consultant for various
projects in the oil & gas industry since 2007. He has been involved in
several projects related to lifting and handling.
• Experience with business strategy and board member of several
companies. This includes Matre Maskin, a Norwegian manufacture of firefighting systems for the marine and offshore industry worldwide; and Servogear, a leading manufacturer
of Controllable Pitch Propeller systems. Ha has also been involved
in several startup companies as co-founder, board member and
investor.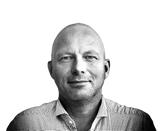 Mr. Snorre Grønningsæter
Chairman of the board, CFO and Strategy Director
• Chairman of the board and partner at Evolift AS.
• Experience in executive board work as Chairman of the board at Energy X (Ålgård CNC) with, NOK 20 million in revenue per year and chairman of the board at Innosolutions, Evolift and SGR Invest.
• Experience in management of startups as founder of Innosolutions
and Evolift and as CFO at E Innovation Group (E Innovation, E Plug and Nitrogas) from NOK 0 –NOK 80 millions in revenue.
• Specialist in soft funding (Innovation Norway and skattefunn
(Research council)) through positions as senior advisor, financial analyst and head of corporate banking at Innovation Norway, Rogaland.
• Competence in finance built through positions in investment banking at Orion Securities and as
corporate advisor in SR-Bank

Mr. Tor Ødegård
Business Development Manager
Tor have 30 years International Oil & Gas Experience spanning from
Operation, Sales and Business Development. Today he is the owner and Director of consulting company Valhalla Oilfield Services.
16 years for Weatherford Norge and International in Operation and Sales
20 years international experience with several companies in Operation, Sales and Business Development
Product and Operations Manager with Weatherford
Rig Manager at Mermaid Drilling
Business Development Manager for Archer Oiltools AS
Business Development Manager (Consulting) representing several
international companies.
Neodrill AS – CAN® (Conductor
Anchor Node)
Innovar AS – BOP and Wellbore
Cleaning tools
Dwellop AS – Coil Tubing
equipment and Cantilever